Top Diwali Outfit Ideas: Diwali is one of the most popular festivals in India. The festival is known as the Festival of Lights. For this festival, many women have thinking about which outfits will be suitable for a better look.  It is a festival when we adorn ourselves in our finest attire, exchange heartfelt gifts, revel in delicious sweets, and do activities for more enjoyment. For ladies, choosing the perfect outfit for Diwali is a delightful yet daunting task, as Diwali is a chance to showcase your outfit style and embrace tradition.
Top Diwali Outfit Ideas For Women On This Year
To make your Diwali outfit selection easy and fantastic, we've listed the Diwali Outfit Ideas that every lady can consider for this Diwali.
The Timeless Sari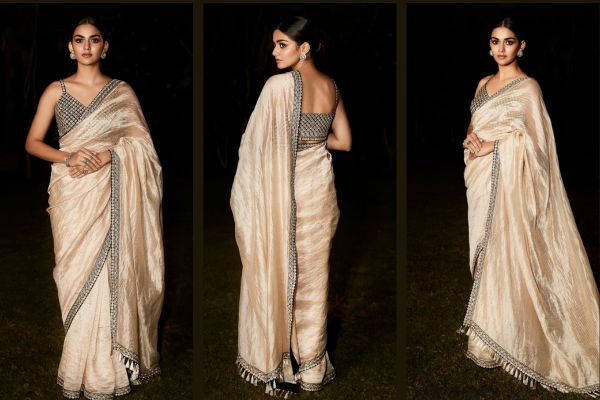 The Timeless Sari is the perfect outfit for you this Diwali. This type of sari comes in different stunning colors and designs, so you can choose the best timeless sari that suits your style and interest. Choose the beautiful woven silk or elegant chiffon sari in the series of timeless sarees for this festival to reflect your style in front of others. Consider pairing the timeless sari with an excellent designer blouse that complements the fabric to complete the look on this Diwali. The different types of timeless sarees can be bought online on big shopping websites.
The Contemporary Anarkali Suit
Another ideal outfit for this Diwali for ladies is the Contemporary Anarkali Suits. Many women often choose these types of suits to celebrate Diwali. The different types of contemporary Anarkali suits are available on the market; you need to select the form when you find the best outfit for this Diwali. These elegant Anarkali suits can offer you a perfect blend of traditional and contemporary fashion this Diwali. Opt for a floor-length Anarkali suit in stunning colors like gold, maroon, or emerald green. Also, consider pairing a contemporary Anarkali suit with delicate jhumkas, high heels, and a clutch to make your look beautiful this Diwali. These Anarkali suits in different colors like gold, maroon, or emerald green can be bought online on big shopping websites.
The Fusion Indo-Western Ensemble
If you are a woman looking for the best and trendy outfit for this Diwali, consider choosing the fusion Indo-Western ensemble. Many ladies often choose the fusion Indo-Western ensemble to make themselves look beautiful in front of others at the festivals. These are mix-and-match elements from both Indian and Western wear and elegant outfits for many celebrations. Opt for a fusion Indo-Western outfit to create a unique and eye-catching look on this Diwali. Pair a traditional lehenga skirt with an excellent off-shoulder blouse or a crop top, and complete your look by adding some accessories with statement jewelry, like a choker necklace or oversized earrings. Also, the fusion Indo-Western ensemble can allow you to showcase your creativity and individuality while honoring tradition.
The Graceful Sharara Ensemble
For those looking for the best outfit for this Diwali, a Graceful Sharara ensemble is a fantastic choice. The Graceful Sharara Sets consist of a long kurta that is paired with wide-legged trousers. These are made with luxurious fabrics like silk or brocade that provide an element of comfort and modernity while pairing them. Opt for a Graceful Sharara Set in a fantastic color and elegant fabric like silk or brocade for this Diwali. Pair a sharara set in luxurious fabrics with juttis or stilettos and a matching clutch for the complete look on this Diwali. If you want to make a chic fashion statement this Diwali, consider selecting a graceful sharara set and pair it for a better look. Besides this, these ensembles can be bought online by visiting online shopping sites at reasonable prices.
The Effortless Lehenga Choli
For those looking for the best outfit for Diwali 2023, the effortless lehenga choli is an excellent choice. It is a three-piece ensemble that includes a cropped blouse, a flared skirt, and a dupatta. These ensembles are rich in festive colors and adorned with intricate embellishments or embroidery. This three-piece ensemble can make you look beautiful when you pair it at the festival. Opt for an effortless lehenga choli ensemble in festive colors to pair on this Diwali. Pair this lehenga choli ensemble with a contrasting or matching dupatta and statement earrings and bangles to exude grace and traditional charm. In addition, these outfits can also be bought online on the big shopping sites in India.
The Bottom Line
We are significantly know that Diwali is a big festival in India. We try wearing excellent, traditional, and contemporary mixed ensembles to make the perfect style and charm and celebrate Diwali with joy and happiness.
It's essential to choose the ideal outfit to wear before selecting ensembles. Find the excellent ensemble that suits your interests and style before choosing! Also, try an online search to view the Top Diwali Outfit Ideas for This Year for Ladies.